11 Jul 2014 - about

1 min

to read
I've just had an interesting problem with an SFTP account that suddenly stopped working from a cron job. When the account was used directly from the bash prompt the response was simply Connection closed immediately.
Every thing was set up correctly as far as authorized_keys and /etc/ssh/sshd_config looked fine but the account wouldn't connect.
As I don't have the private key for the user that was connecting to the server, I created a new key pair and added the public key to the authorized_keys file in the users .ssh folder. Using the following command I got a response that was no more helpful;
psftp logdrop@10.0.0.1 -i logdrop_pk.ppk 
This gave the response;
FATAL: Recieved unexpected end-of-file from SFTP Server 
After a couple more checks on the server and no success I decided to try
class="highlight">
putty logdrop@10.0.0.1 -i... read more
---
03 Jul 2014 - about

1 min

to read
As part of a project I'm working on I need to create a cross join of users against symbols; the idea being that any of the given users might look at any of the given symbols. I have a list of users and a list of symbols which I essentially need a cross-join on.
For this example I'll use cars and engine/transmission variants.
From these two lists I need to quickly create all possible combinations;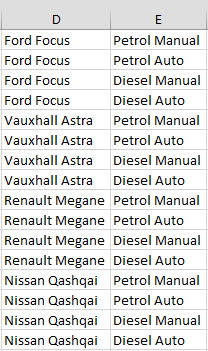 I can't find any function that will do what I was so I've created a VBA function that will do it;